How to Celebrate Halloween at Home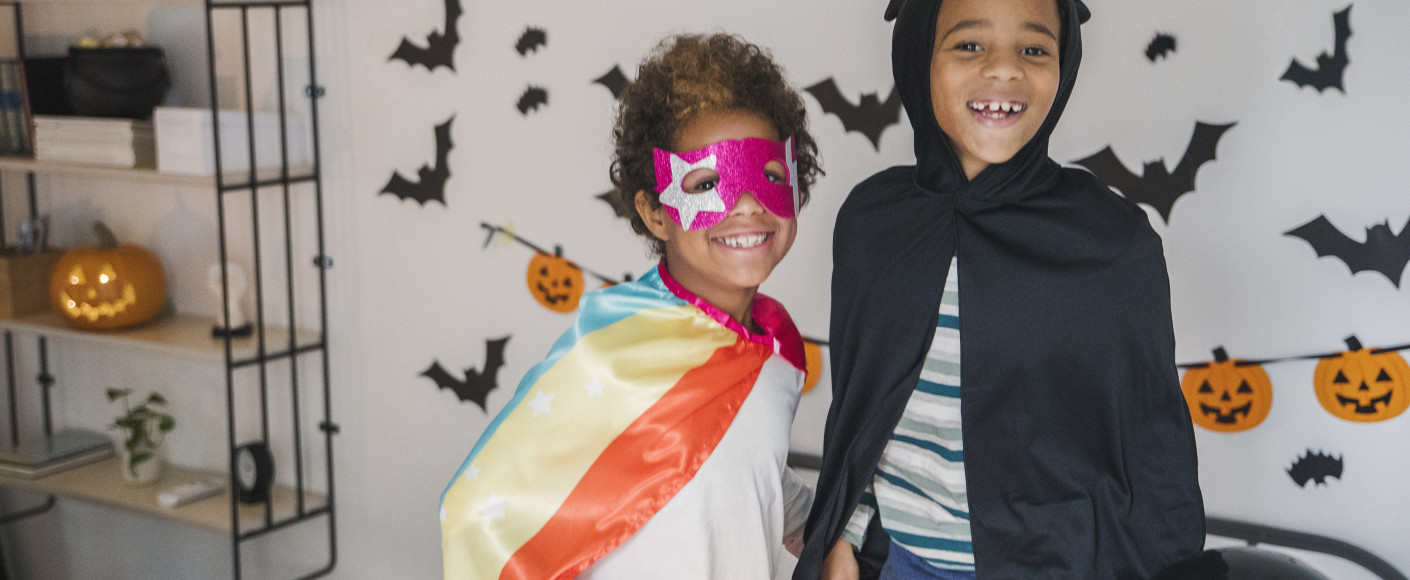 The idea of spending Halloween at home doesn't have to be scary. In fact, there are plenty of ways to make this the most spook-tacular holiday yet without leaving the house. 
Candy Creations
First on our list for a reason, candy is king on Halloween. Celebrate accordingly by chowing down on treats and learning a bit more about your bites. 
Mock Candy Recipes
Instead of (or in addition to) buying bags from the store, try whipping up a few of your favorites at home. Not only will these recipes satisfy your sweet tooth, they'll serve as fun activities for the whole family. 
Peanut Butter Cups
With only three ingredients, this recipe won't eat into your other plans. The classic chocolate-peanut butter combo will be a crowd pleaser for all the ghouls and goblins around.
Snickers-Inspired Bar
Packed with peanuts swimming in caramel, these bars bring the flavor. The grocery store run for marshmallow cream and evaporated milk will be well worth it as soon as you dig in.
Sour Gummy Worms
What's more fitting for Halloween than slimy, edible worms? Take a break from sweetness and wriggle your way towards sour with this recipe. 
If you're looking for additional quick and simple options, check out our list of easy Halloween treats here. You'll find everything from desserts and savory dishes to festive drinks. 
Surprising Candy Ingredients
A better surprise than your kids jumping out to yell, "BOO!" — for the twelfth time this week, but who's counting? — here are a few unexpected candy ingredients. Don't be scared, there aren't any tricks here. 
Carnauba wax: Responsible for the smooth shine on many candies, this plant-based ingredient can be found in candy corn, Swedish Fish, Skittles and more. 
Gelatin: Creating a bouncy texture similar to jelly, gelatin is used in candies like Starbursts and all shapes of gummies.
Egg whites: A common ingredient in many baked goods, egg whites are also a key ingredient in bars like Snickers. 
Hunt Down the Treats
While traditional trick-or-treating around the neighborhood might not be possible, you can turn staying at home into an event with a scavenger hunt. Either hide individual pieces of candy around the house and let the kids loose — think Easter egg hunt — or hide all of the candy in one place and create clues leading them to the treasure. 
If you need ideas for clever clues, take a look at our scavenger hunt tips here.
Family-friendly Tricks and Games
To get everyone in the Halloween spirit, give the thumbs up to some harmless pranks and activities. Better yet, invite your kids to flex their creativity and brew up a few pranks of their own to pull on Mom and Dad — setting a few boundaries first, of course. 
Ice Ice Buggy 
Add any bug-shaped candy to an ice mold with water. Then, put the mold in the freezer, wait for the cubes to form and serve your kids a glass with a few critters floating around. 
I (Spooky) Spy 
Choose any object related to Halloween — eyes, bones, bats, brooms, etc. — and see how many things your kids can find around the house that relate to your chosen topic. 
Go Batty 
Grab a few empty toilet paper rolls, black construction paper, tape or glue, kid-safe scissors and a white crayon to make your own bats. 
First, wrap black construction paper around the toilet paper tube until it's completely covered. Use glue or tape to keep the paper in place. Next, draw any shape or size of wings you'd like — they don't even have to match. Once the wings are drawn, cut them out, then fix them to each side of the toilet paper roll body. Finally, let your child draw whatever facial features they'd like using the white crayon. 
No matter how you're celebrating this year, we wish you and your family a happy Halloween! 
More Halloween Fun
---