How to Choose the Perfect Ham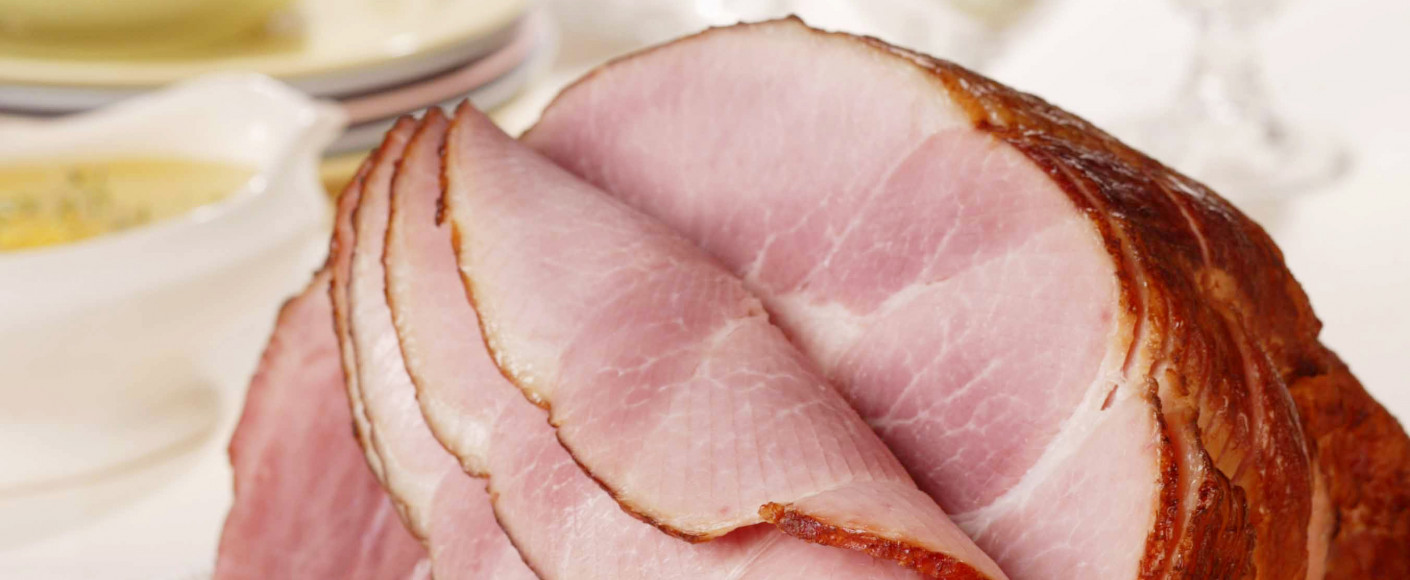 Ham is the centerpiece of many celebrations like Easter and Christmas. Choosing the perfect one is essential in planning your meal. Selecting a delicious, lean ham is easy once you know what to look for. These shopping tips will help you choose the perfect ham for your celebration. 
Check the Label 
What's in a label? Well, hams are labeled according to the amount of water added during the curing process. There are two types of curing: 
Dry Curing: Hams are dry-cured by rubbing salt and spices onto the meat's surface. Dry-cured hams are known as "country-style."  
Wet Curing: Hams are wet-cured with a brine solution containing water, salt, sugar and spices. Wet-cured hams are the most common. 
Types of Ham 
There are four types of ham to choose from: 
Old-fashioned, Country-style or Southern-style Ham: This Southern specialty ham contains no added water, as it is dry cured. It's extremely salty and is usually served in small portions, very thinly sliced.  
Ham with Natural Juices: A favorite choice for a dinner centerpiece, this ham has little water added in the curing process. Its velvety texture and attractive appearance make this a family favorite at holiday meals.  
Ham with Water Added: This type of ham is an incredibly versatile option. It's great for steaks, thin slicing and shaving. That's because it retains more water during the curing process than ham with natural juices added. 
Ham and Water Product: A good choice for sandwiches, this ham is best served cold, and is commonly found in the deli. It has more water added than the other types, which dilutes its protein and fat content, as well as its price. 
Ham can be served hot or cold, and is available boneless or bone-in. 
Boneless vs. Bone-In 
Which one is better? That's up to you. While bone-in hams are traditionally seen as more elegant, boneless are considered easier to serve. Both have the same great taste. 
Shopping Tips 
Now that you know what type of ham to look for, consider these tips when selecting your Easter ham: 
When serving bone-in ham, plan on two to three servings per pound. A boneless ham will yield four to five servings per pound.  
Bone-in hams are available whole, or as a shank or butt half. Since bone-in hams are trickier to carve than boneless hams, ask your butcher to spiral slice the ham.
Preparation and Serving Tips 
And, of course, you'll want to prepare a beautifully browned masterpiece! Here's what you need to know once you get your ham in your kitchen: 
Unwrapped hams, in their original packaging, will keep for several weeks in the refrigerator, so feel free to shop early and beat the rush at the butcher counter.  
Virtually all hams come fully cooked, and will be labeled so. Preparation is easy—unwrap, heat to an internal temperature of 140 degrees F, and serve. Follow the directions on the label and heat in a moderate (325-350 degrees F) oven. Or, if you prefer, serve the ham cold. Either way, it will be delicious!
Lean ham is also a nutritious choice for your table. 
Ideas for Ham Leftovers
---