Step Back in Time at the Deanna Rose Children's Farmstead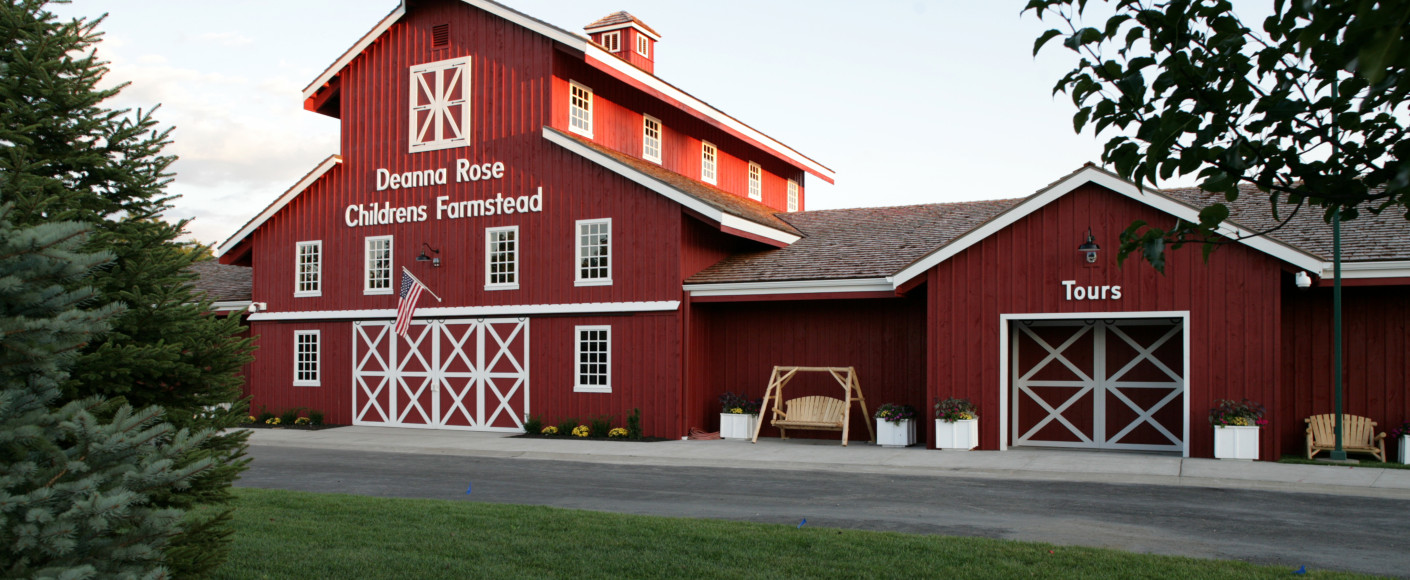 In the heart of Overland Park is a little gem where visitors of all ages can step back in time and experience Kansas' rich heritage. Or, perhaps we should say it's a big gem, because it stretches across 12 acres and features animals, historic buildings and activities for the whole family to enjoy. Of course, we're talking about the Deanna Rose Children's Farmstead.
What started as a community park featuring 12 animals in 1978 has grown to become an attraction that draws visitors from all over the world.
"The Farmstead is a unique facility," said Kathi Limbocker, education programs supervisor. "I don't know of any places that do exactly what we do. We're not living history. We're not a museum. We're not a zoo. We try to educate people about what it was like in 1900s Kansas, and we educate them through entertainment."
Rated as one of the top attractions in Overland Park on TripAdvisor.com, the Farmstead provides an interactive getaway for families.
"It's a chance to get outdoors and be with family. I think people in today's world appreciate the chance to disconnect," Kathi said. "We're right in the middle of a city, yet we've created this farm atmosphere."
This sense of being in a place from another time creates magical moments.
"The best magical moment is seeing the farmstead through a child's eyes and seeing the learning that happens through the fun," she said. "They use all their senses to learn about farm animals and where their food comes from."
Kathi said many visitors have never seen — or smelled! — a live pig before.
"Their reactions are priceless! They're fascinated," she said.
If you're looking for a fun day adventure, here are some things you can look forward to at the Farmstead.
Animals
The Farmstead has several interactive and educational animal areas. A big hit is the bottle-pen, where visitors can feed pygmy goats from bottles. You will also enjoy pony rides and a horse-drawn wagon ride.
Another popular display is the milking demonstration. Visitors can watch cows being milked twice a day — although, as Kathi pointed out, it's done on the cow's schedule, so be a little flexible with your timetable!
You might also catch a glimpse of animals that would have been found on the farm or even in the wild during the 1900s — cows, horses, turkeys, chickens, bison, longhorn, geese and deer. They even have areas to see prairie dogs, birds of prey and butterflies.
Educational Displays
Special highlights are a turn-of-the-century bank, barber shop, schoolhouse, general store and blacksmith shop, letting visitors see what life was like in the 1900s. Explore the Kanza Indian Encampment, too.
Visitors are encouraged to share their own experiences with each other and the Farmstead staff. In the schoolhouse, the chalkboard often sparks a conversation.
"Kids today don't have chalkboards! It's wonderful to see Grandma or Grandpa share something like that with their grandchildren. There's a multigenerational aspect. I just love seeing that connection," Kathi said.
General Grounds and Concessions
Families can stroll around the grounds to enjoy various gardens, a fishing pond, pedal tractor track and playgrounds.
Keep an eye out for several spots to enjoy lunch and treats (ice cream, anyone?).
Special Events
Each year the Farmstead features special events like a July 4thcelebration, outdoor movie nights and a June Bug Ball celebrating all things insects (costumes welcome!).
A returning favorite is goat yoga. Although obviously not a historic activity, the Farmstead has a lot of goats and there was a surprising amount of interest from the public.
"It's been a huge hit. It's a unique event and people really are fascinated by it. We saw this as an opportunity to reconnect folks to the Farmstead," Kathi said. "It's a chance to come to the Farmstead to experience nature, goats and laugh."
"We're hoping it becomes a really popular photo op," Kathi said.
The mural was donated in part by KFFC member organizations.
See a full list of this year's special events.
Plan Your Visit
The Farmstead is open from April through October and welcomes visitors from all over the world. Regular hours are 9 a.m. to 5 p.m. 
During the summer, the Farmstead offers special extended hours until 8 p.m. on Tuesday and Thursday to allow families to take advantage of the nice weather after work.
Admission is $3 per person, except after 2 p.m. Monday through Thursday when admission is free.
The Farmstead welcomes private groups for tours, birthday parties and other events.
The Farmstead also has a volunteer program for youth ages 14 and older.
"It's very rewarding to see kids that came here year after year as guests who can't wait to come back and volunteer," Kathi said.
Years ago, Kathi's own history with the Farmstead began when she visited with her children. Today, she loves being part of that experience for others.
"I'm so lucky to be part of this," she said. "Every day is different. Kids come in laughing and excited, and when we close, it can be hard to get people to leave! The kids get real ownership. This becomes theirfarmstead."
The Deanna Rose Children's Farmstead was renamed in 1985 to honor Deanna Sue Rose. She is the only Overland Park police officer and the first female police officer in Kansas to die in the line of duty.