Spotlight on Fuel Up to Play 60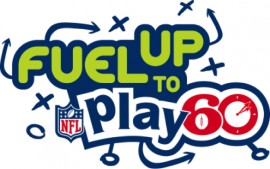 The recipe for healthy kids is simple. Combine 60 minutes of physical exercise with good nutrition to build strong, healthy kids. Dairy farmers did their homework and found a program to empower youth to do both: Fuel Up to Play 60.
Fuel Up to Play 60 is a program that encourages youth to choose nutrient-rich foods first and get out and play at least 60 minutes each day. 
This school wellness program was started by the National Dairy Council, Midwest Dairy Council and the National Football League, in collaboration with the United States Department of Agriculture. It has helped to make wellness part of the game plan in more than 73,000 schools across the county, including more than 12,000 schools right here in the Midwest. Millions of students nationwide are more active and are eating healthier because of Fuel Up to Play, with encouragement from over a hundred thousand enrolled parents and educators. Community members also offer support for Fuel Up to play in various ways.
More About
Where you can find it: In schools across the country
Likes: Being outside, playing, fun activities
Dislikes: Sitting on the couch, eating junk food
Interesting fact: Encourages students to choose nutrient-rich foods and play at 60 minutes per day
Interesting fact: Millions of students participate nationwide