Five Signs of Spring in Kansas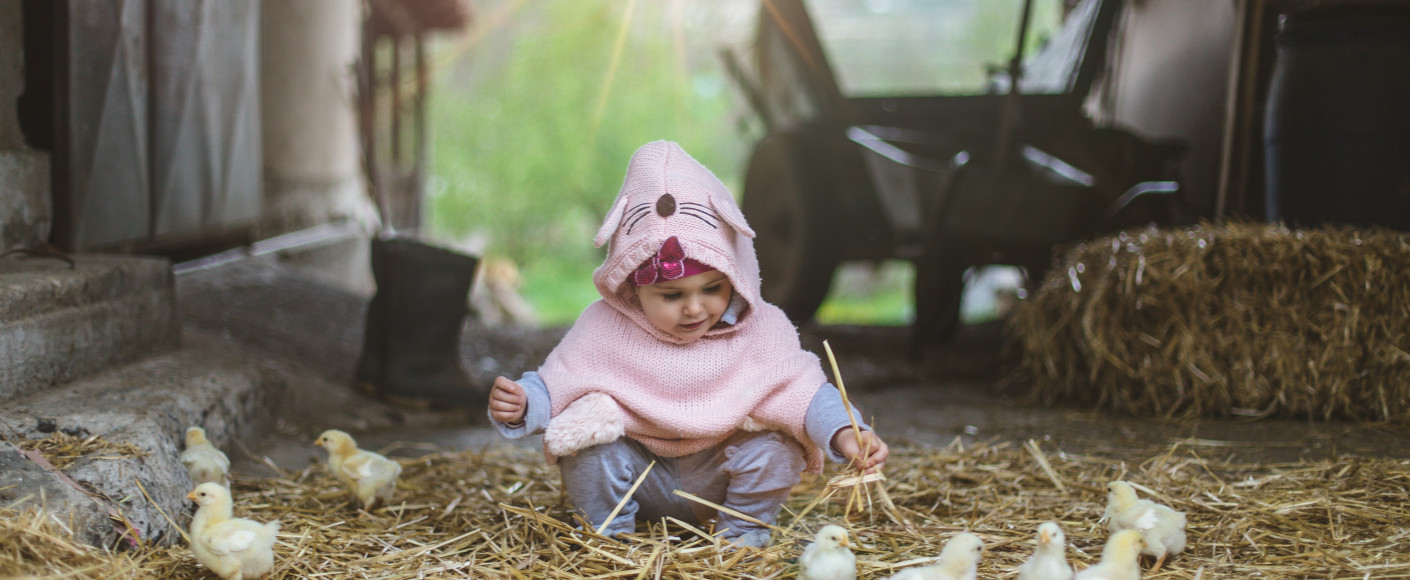 Spring always feels like it's never going to arrive. Little by little, we get glimpses of what's to come. Then there's an explosion of green grass and pastel blooms, warm days and thunderstorms, baseball games and picnics. Spring has sprung!
Here in Kansas, we have our own distinct signs of spring, thanks to farms and ranches around the state. 
Barnyard Babies
Calves in the pastures, peeping chicks in the farm-and-home stores, lambs on Easter cards…spring and barnyard babies go hand in hand. Though some farmers and ranchers time breeding and birthing periods throughout the year, spring is traditionally when farm animals have their young.   
Calves are often born between January and May, and they need a diet high in protein and other nutrients when nursing. The grazing diet of springtime grasses is perfect for cows to produce nutrient-dense milk for their young. As temperatures grow warmer and the days grow longer, prairie grass becomes a bovine superfood. The mild temperatures are also less stressful for the newborns, which increases their odds of survival.
Did you know? Barometric pressure may play a part in the timing of animal births. Farmers and researchers have noticed a correlation between spring cold fronts and labor in cows. Cows often go into labor when the low pressure ahead of a storm front gives way to drier, cooler weather and higher air pressure.  
Like cattle, most lambs are born before May each year for the same nutrition and weather reasons. Sheep are naturally seasonal breeders and are most fertile when the days are shorter in fall, resulting in springtime births. 
Have you ever heard the phrase "spring chicken"? That's because — you guessed it — chickens begin laying eggs in spring due to those extra hours of sunlight. Are you noticing a pattern here? 
There's nothing like seeing these fuzzy, cuddly cuties up close. This is the perfect time to plan a family adventure to visit with some barnyard babies. Check out some petting zoos and farm tours in your area.
Fire in the Fields
Spring is in the air, and so is the smoke from prescribed burning across the state. Also known as controlled burning, this practice involves intentionally setting grass fires to prevent pastures from being overrun by invasive trees and plants. It also improves the growth of new grasses and preserves the health of our state's tallgrass prairie and wildlife habitat. 
Did you know? Sometimes a controlled burn becomes an uncontrolled burn, and wildfires can result. For safety, farmers and ranchers follow strict burning guidelines like checking fire forecasts and communicating with their local fire departments. Because it's not uncommon for fires to reignite, many also pay close attention to the forecast for several days after a burn.
Crop Cultivation
You've no doubt seen tractors and implements slowly making their way through the fields. Farmers are busy prepping soil and planting or fertilizing some major Kansas crops from February to June: 
Barley 
Oats
Corn 
Sorghum
Soybeans
Sunflowers 
Did you know? Now you know what's going in the ground, but what about what's growing in the ground? When you see a cultivated field of bright green grass surrounded by the still-brown tones of winter, you're usually looking at winter wheat. It's planted in fall, lies dormant in winter, grows in spring and is harvested in summer. Learn more about winter wheat in Kansas.
Outdoor Farmers Markets 
Another sign cropping up this time of year in parking lots across the state are the tents, tables and food trucks of outdoor farmers markets. We love when fresh produce, farm-raised meats and other goods start making an appearance in spring. 
Did you know? While the bulk of local, farm-fresh fruits and vegetables aren't typically found until summer, warmer spring weather brings some cold-season crops like spinach and broccoli. Plus, vendor displays are brimming with jellies, cheeses, baked goods and other handmade items. Find a market near you and consider supporting your local growers.
Sneezes
Yep, thanks to controlled burning smoke and pollen from trees, grasses and other spring growth, many of us are going to be viewing these signs of spring through itchy, watery eyes. Hang in there; it'll get better soon!
More About Spring in Kansas