About the Old Farmer's Almanac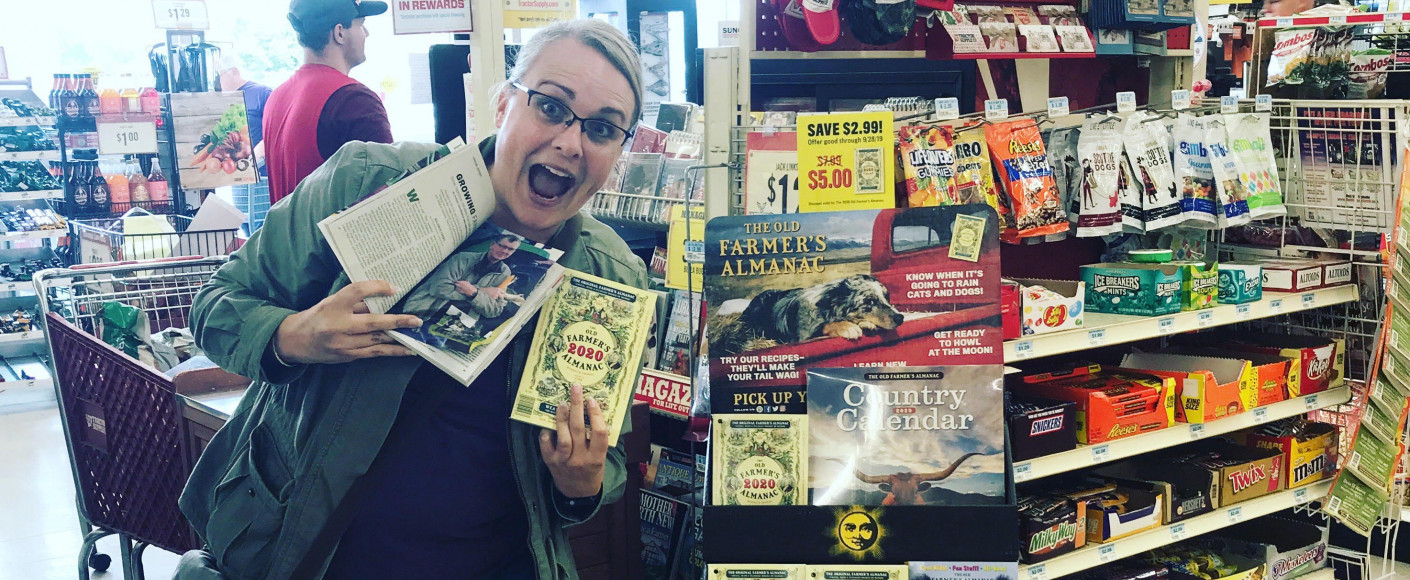 What will the coming year hold? It may seem strange, but the answer is in your grocery store. While standing in line to check out, you're sure to be bombarded by tempting sweets and scandalous gossip. But there's a little gem quietly nestled between those bold flavors and giant headlines. It's an unassuming publication you've probably seen for years: The Old Farmer's Almanac.
The annual gem has been around for more than 200 years. (Can you imagine still being relevant after two centuries? Most of us can barely stay relevant for two decades! OK boomer? Whatever.) And it holds the key to the future. (Kind of.)
Almanacs have been around forever, but they used to be rarer. Like many sources of knowledge, the printing press made them widely available to regular folks. Since then, they've become a staple for farmers. These tomes feature weather predictions, tides and phases of the moon, plus some wit and wisdom to enlighten readers.
Today, there are several different almanacs in print in the United States, but the Old Farmer's Almanac — the one with the iconic yellow cover and ornate etchings — is the oldest and best-known. It's been around since 1792.
Almanac History
Picture it: America, 1792. George Washington was serving his first term as president of our newly formed country. (Kansas wasn't even a state yet.) The United States Mint was established, formally allowing the federal government to make its own money. (Fans of the musical Hamilton, take note, he had a hand to play in the founding.) The French Revolution raged on. And Robert B. Thomas developed weather forecasts for the coming year using a secret system he invented.
The company which publishes the Old Farmer's Almanac says the secret formula is based on three factors:
Solar science (like sunspot activity)
Climatology (weather patterns)
Meteorology (atmospheric patterns)
Fun fact: The forecasting system is still a secret and said to be safeguarded in the publication's headquarters in a black box.
Thomas had a lot of competition. Hundreds of almanacs were being printed at the time. But his became the most popular. The publisher credited his wit and accuracy for his success, estimating his forecasts were about 80 percent correct. (Meteorologists today are less convinced.)
Some intriguing bits of trivia from the Old Farmer's Almanac's history include:
The publication was originally called The Farmer's Almanac. Thomas added "Old" to the title in 1832, then dropped it. The publication's next editor, John H. Jenks, added "Old" again in 1848 to distinguish it from the other almanacs on the market.
The yellow cover was introduced in 1851.
In 1970, a scientist at NASA who was responsible for determining rocket launch windows became the publication's new forecaster, using the name Abe Weatherwise.
What's Inside
So, what's in the almanac? In addition to forecasts, you can expect to find household tips and various features on gardening, health, recipes, life hacks and even technology. The publisher promises the contents will be "useful, with a pleasant degree of humor."
One feature in the 2020 edition we're especially excited about includes a Kansas farm family — the Baldwins, whom we had the pleasure of profiling in 2018. The special report highlights the ways in which many farmers have needed to diversify their crops to weather a challenging economic period, as prices for commodity crops like wheat, field corn and sorghum fall. The Baldwins decided to try growing popcorn. They were nervous at first, wanting to make sure they had a viable product. They had to harvest the corn at the proper moisture level or else it wouldn't pop properly. Their first batch didn't do too well, resulting in a smoking bag of kernels. But another attempt a few days later yielded fluffy popped kernels in the microwave, on a stovetop and in an air popper. Their new product, Papa Baldy's Popcorn, was born.
Grab a Copy
So, if you're curious to know what the year ahead may hold, or you just want to connect with a tradition that's delighted readers for centuries, bypass the candy and tabloids and settle on a copy of The Old Farmer's Almanac to top off your grocery list.