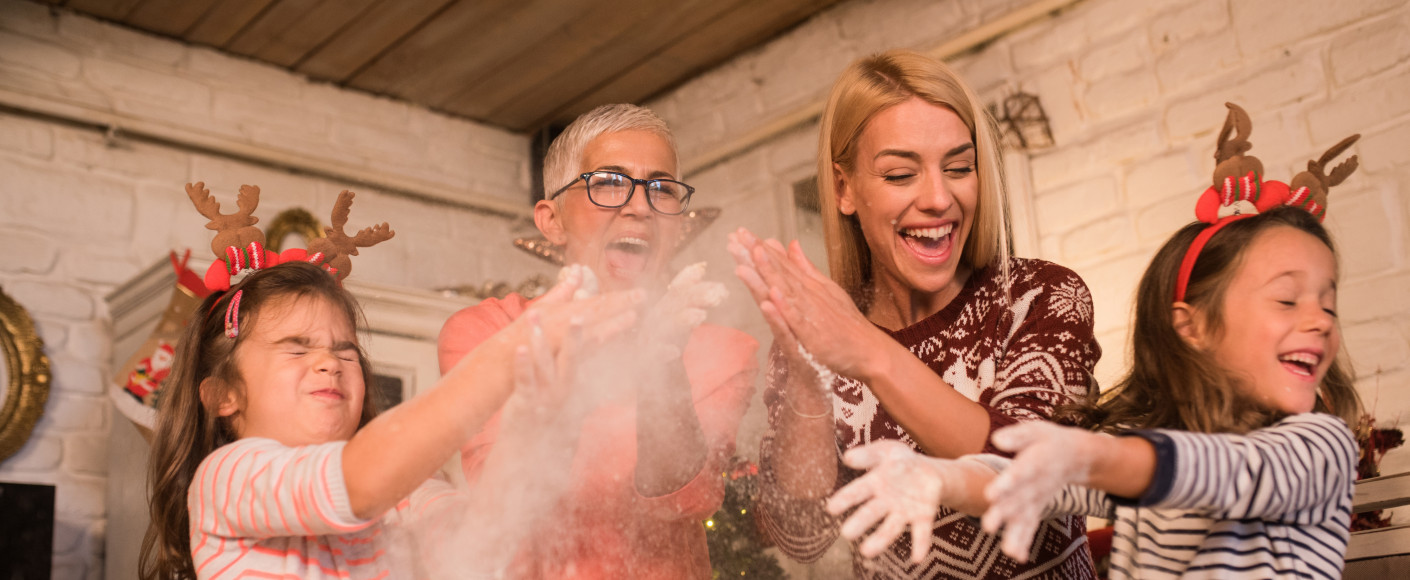 It's the most wonderful time of the year! Can you hear the carols? See the twinkling lights? Feel the stress of impending errands to run and house guests to entertain? 
If your to-do list is longer than Santa's with no elves in sight to help, don't sweat it. Follow these tips to stay as calm and cool as Frosty himself. 
Prep as Much as Possible
Prepping as much as you can for Christmas dinner will allow you to enjoy the day without the stress of cooking lingering in the back of your mind. 
To give yourself a head start, whip up ingredients or complete the first half of recipes when you can. For example: Make your dough, but don't bake anything until the day you need it. Also, if you have any dishes that are just as yummy after a stint in the fridge and a quick warming, make them ahead of time. 
This will let you focus on what matters — spending the day appreciating family and getting the warm-and-fuzzies giving gifts — and not cooped up in the kitchen. 
Coordinate Your Colors
Making your decor and dinner table flow doesn't have to be an expensive, intimidating endeavor. Start by surveying your current Christmas decorations and pick two or three main colors. For most people, this will be your traditional green and red, but the concept will still work for the anti-traditionalists decorating with purple or blue. Throw in some gold or silver to glam things up.
After you've picked your colors, set the table to match your scheme. Again, no need to invest in new pieces, neutral plates and silverware will do just fine. Place a few colored candles and ornaments across the table and use matching napkins or place settings if you have them. Level up and incorporate a natural element (real or fake, we won't tell!) like pinecones or decorative foliage.
To complete the look, head to your nearest discount home goods store to find coordinating serving dishes that won't break the bank. 
Choose the Perfect Main Dish
Poultry and beef and pork — oh my! — the options are endless. With so many pros and cons to each main dish, it can be hard to decide what to serve. Luckily, we have this handy article for you to find the perfect main course for your needs. 
Don't Be Afraid to Snack
Many families only eat one formal meal on Christmas: dinner. If that's you, prepare snacks to avoid hanger and keep your Christmas Grinch free. 
Lightly munching throughout the day is also a great way to minimize those pesky "Is dinner done yet???" questions. 
Check out these quick and easy snacks to keep everyone smiling:
Make a Hands-on Dessert 
This one is two-fold: It gives you less to prepare ahead of time and it's a fun bonding activity. 
An easy place to start is with some classic cookie decorating. Make the dough yourself or, if you're short on time, buy your favorite premade flavor. Looking for a festive recipe? Try these perfectly soft gingerbread cookies. Fill the table with colored icing, sprinkles, jellies and any other decorations you'd like. 
Pro tip: If you don't want to limit your color options, set out white frosting with multiple food colorings to create any color needed. 
Another option is to end your day constructing the ultimate gingerbread house. Your local grocery store or favorite Christmas market is sure to have many sets to choose from, so you can buy a house — or castle, train, barn, etc. — to fit your family's tastes. 
Focus on What Matters
While the most obvious, this last tip might be the hardest. We all want to give our loved ones the best Christmas ever, but we can't do that when we're stressed. (And we certainly won't enjoy it ourselves either.) Every so often, take a moment to step back and take it all in — the decorations, the food, the laughter. This will help you slow down and enjoy the day. 
Happy Holidays!