Three Easy Air Fryer Recipes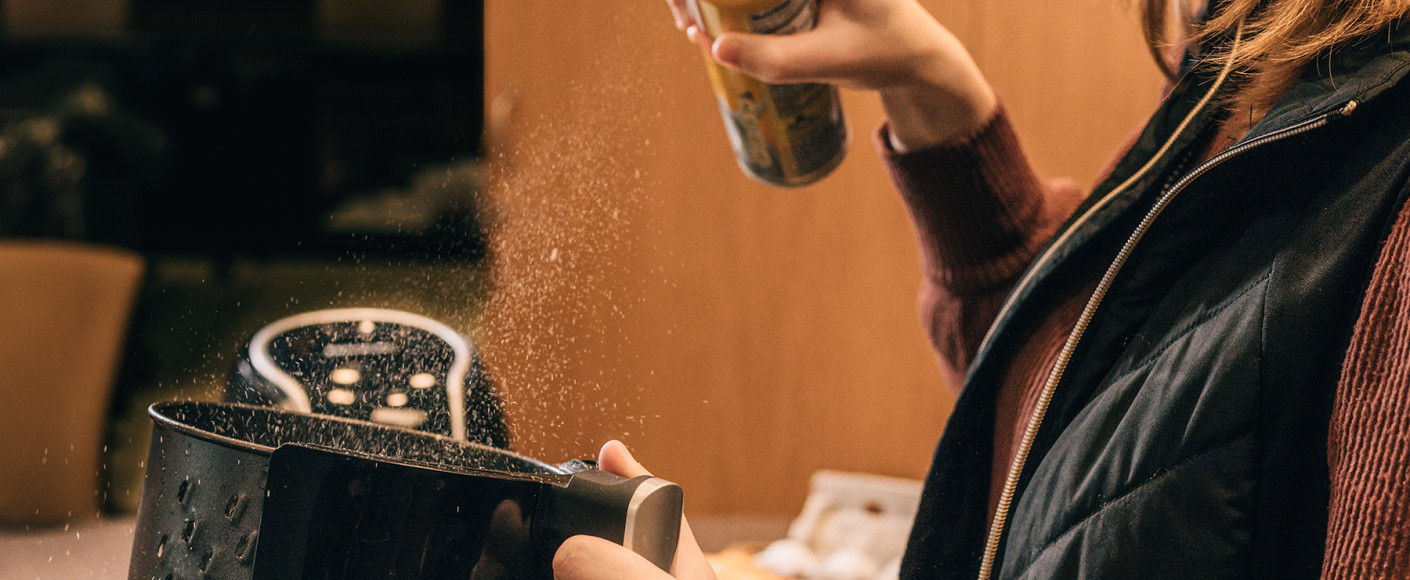 This story is dedicated to Gen Zers!
Entering adulthood can bring on a lot of different changes to one's life. Graduating college, finding your first job, how to manage your own bills and, most importantly, learning how to take care of yourself. 
All these things may seem overwhelming, but we're here to help you cross one item off your to-do list: Learning how to cook. 
If you're a regular on social media, you may have noticed that air fryers have become increasingly popular. Personally, I like to think of them as an adult version of the Easy-Bake Oven I had as a kid, but a lot easier to navigate! Air fryers come in all sorts of sizes, colors and, best of all, they're affordable, with an average price around $40. 
Once you secure your new air fryer, here are a few reasons it's sure to become one of your favorite appliances:
It heats up your favorite foods very quickly.
You can make great meals on a budget.
You'll have fewer dishes to do, which is especially helpful when you're short on time.
Now it's time to get cooking!
While there are thousands of recipes online, we've narrowed our list down to cover three basic meals: one each for breakfast, lunch and dinner.
Note: Cooking times and temperatures may vary per machine. Don't forget to spray your air fryer with nonstick cooking spray before each use, or you can opt for a liner such as tinfoil.
Breakfast: Sausage, Eggs and Hash Browns
Ingredients
Frozen sausage links
Eggs
Hash browns
Directions
You can make the most important meal of the day in a flash with your air fryer (yes, even hard-boiled eggs!).
To make hard boiled eggs, place the desired number of eggs in your air fryer. Cook at 250 degrees for 15-17 minutes. When finished, place in ice water for 5 minutes. Peel.
To prepare your sausage links, place the frozen sausage into the air fryer and cook at 370 degrees for 8-10 minutes.
To cook breakfast hash browns, place your hash browns in the air fryer to cook at 380 degrees for 10 minutes, then flip and cook for a few additional minutes until they reach your desired crispness. 
Lunch: Mini Pizzas
Ingredients
Small, or "street taco" style tortillas
Pizza sauce
Shredded mozzarella cheese
Your choice of toppings (we used pepperoni)
Directions
One of the most versatile meals, mini pizzas are incredible when prepared in the air fryer. The cheese melts perfectly while the crust remains crispy. 
You can assemble your pizza within minutes. Simply layer the sauce, cheese and toppings on your tortilla and cook at 400 degrees for 5 minutes. Repeat as desired. 
Dinner: Grilled Cheese Sandwiches
Ingredients
Sandwich bread of choice
Cheese of choice (we used a blend of sliced cheddar, Colby jack and shredded mozzarella for added cheesiness)
Directions
Like our mini pizzas, grilled cheese sandwiches made in the air fryer are elevated to another level of goodness — a sandwich that's gooey on the inside and crispy on the outside. (Is anyone else getting hungry?)
Assemble your grilled cheese sandwich with your favorite cheese and bread. Cook at 370 degrees for 4-5 minutes. Carefully flip your sandwich and cook for another 4-5 minutes at the same temperature to ensure the opposite side crisps up as well. Enjoy!
Now that you've been equipped with three tasty and budget-friendly recipes, we're confident these meals will satisfy any Gen Zer, whether you're a college freshman living in a residence hall or a recent graduate juggling all the tasks that come with young adulthood. Happy air frying!
---