Savory Seasoned Turkey Breast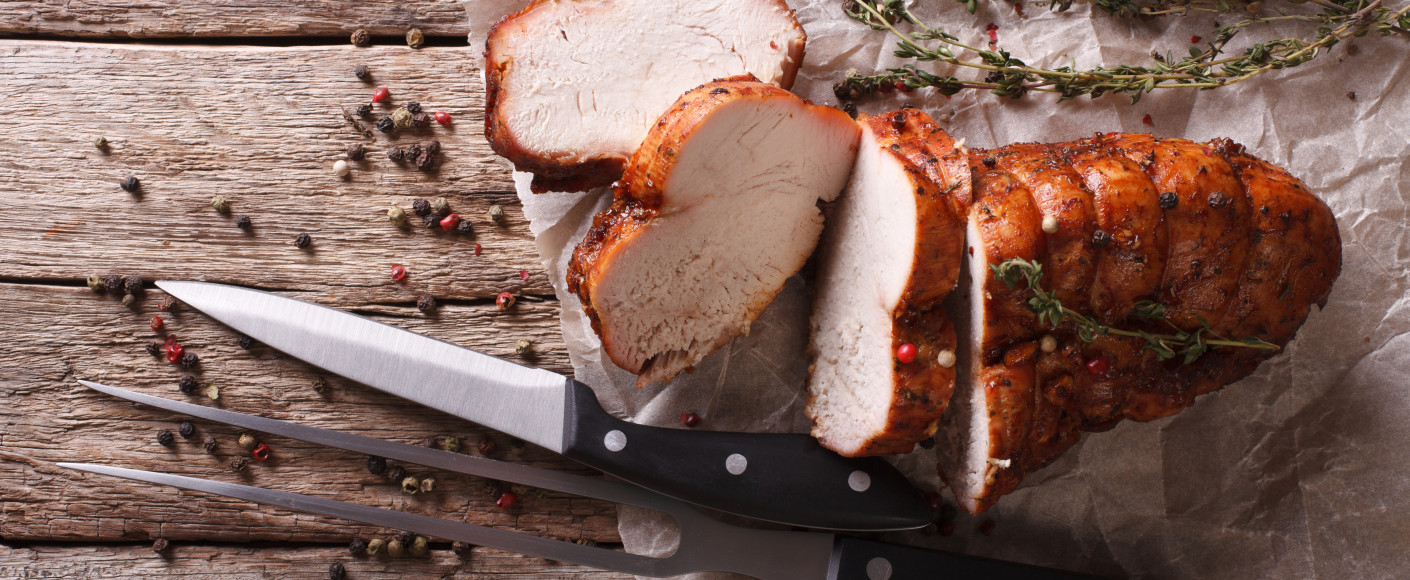 This tender, juicy turkey breast makes a spectacularly delicious main course. If you're a fan of electric pressure cookers, you'll enjoy Chef Alli's recipe, and if you're more of an oven-pro, we've got you covered there, too.
On a specialized diet? This recipe works well for folks following a gluten-free, dairy-free, low-fat or DASH diet — and, of course, omnivores!
Ingredients
1 turkey breast, 6-7 lbs. 
1 cup broth 
Seasoning Blend 
2 tsp. seasoned salt
2 tsp. granulated garlic
2 tsp. paprika
2 tsp. Italian seasoning 
1/2 tsp. red pepper flakes 
2 tsp. black pepper 
Combine everything well in a small bowl; reserve. 
Brine  
3/4 cup kosher salt
6 cloves garlic, smashed (no need to remove skins – just toss into brine as-is after crushing)
1 Tbs. black peppercorns
3-4 sprigs fresh thyme or rosemary, rolled with rolling pin to release essence/oils
1/3 cup packed dark brown sugar
1 orange, cut in half
1 lemon, cut in half
2 quarts water
Dissolve the salt and sugar in one quart of hot water; add garlic, peppercorns, thyme and brown sugar;  stir to blend well.  Cool the solution with remaining quart of cold water. 
Directions
Unpackage and rinse turkey breast with cool water; place into a two-gallon heavy-duty Ziploc bag that is placed in a very large bowl or container. 

Pour the prepared brine mixture over the breast into the bag; add oranges and lemons to brine, then use a rubber band to close bag tightly. Place turkey breast in brining solution into refrigeration for eight to12 hours. (Exact brining times will vary. Start with eight hours and make changes per your taste.) 

Electric Pressure Cooker Method 
Place one cup broth into bottom of electric pressure cooker (EPC) pot; add trivet.  

Remove breast from brine and pat dry with paper towels. Rub turkey breast liberally with 1-2 Tbs. canola oil; using your finger tips, rub prepared seasoning all over oiled turkey breast.

Place seasoned breast on top of trivet; lock EPC lid into place and choose High Pressure setting for 50-55 minutes. 

When timer sounds, perform a natural pressure release. When all pressure is removed, unlock EPC lid and temp breast using an instant-read meat thermometer inserted into center of breast. The temperature should register 160-165 degrees F. 

If turkey breast isn't fully cooked, lock EPC lid into place again and set for 5-10 minutes on High Pressure setting. When timer sounds, release pressure from EPC and check internal temperature of breast again, making sure it is 160-165 degrees F. at the center. 

If you'd like to crisp up the skin of the turkey breast you've cooked in the EPC, simply place breast into a shallow roasting pan. Place roasting pan beneath a preheated broiler for a few minutes until breast is a dark golden brown. Slice breast as desired. 
Oven Method
Preheat oven to 500 degrees F.  Place prepared turkey breast into a greased roasting pan. Roast, uncovered, in preheated oven on center rack for 25-30 minutes, or until very nicely browned.  

Remove turkey breast from oven and cover with foil.  Reduce heat to 375 degrees F.  and continue to roast covered turkey breast for an additional 30-60 minutes, just until an instant-read meat thermometer inserted into center of the breast registers 160 degrees F. and turkey juices run clear.  

Remove turkey breast from oven and let rest, covered with foil for 20 minutes before carving.
---