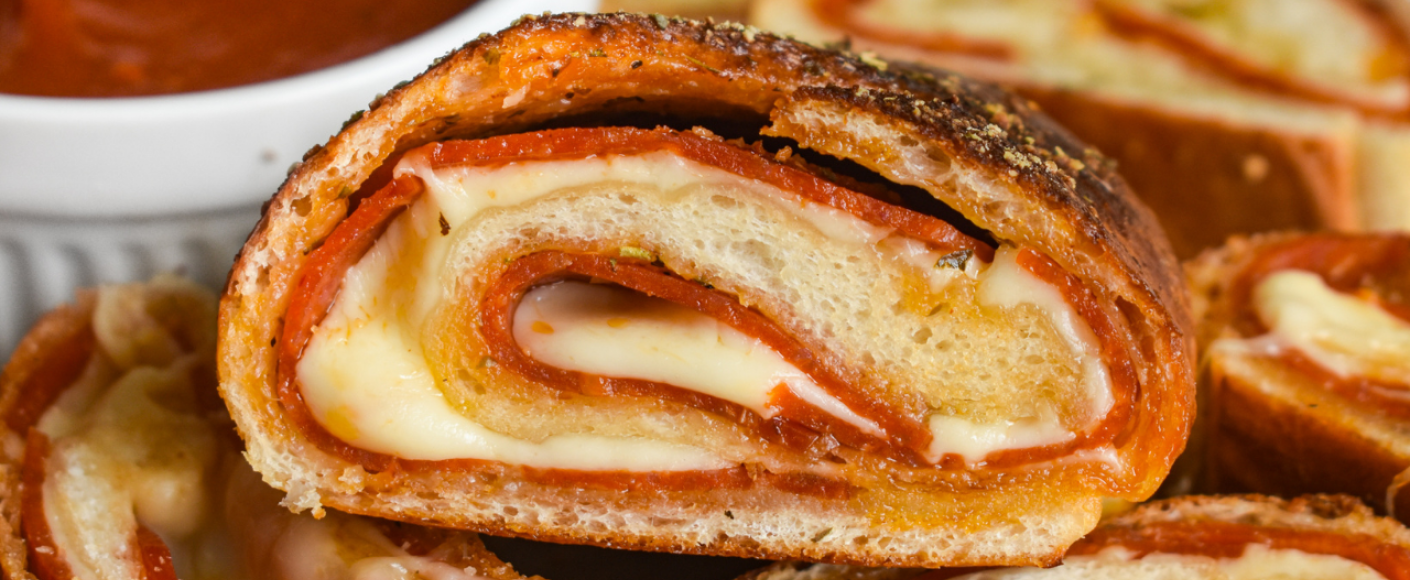 This simple weeknight meal is one the whole family is sure to enjoy. Featuring loads of pepperoni and gooey mozzarella cheese, this tasty swirl is easy to make and cooks in less than 30 minutes. Feel free to get creative and use different pizza toppings for the filling. Cooked sausage, hamburger and veggies all make for delicious variations on the theme!
Ingredients
One 13.8-ounce tube refrigerated pizza crust
¼ cup salted butter, melted
¼ teaspoon garlic powder
½ teaspoon Italian seasoning
½ pound pepperoni slices
One 8-ounce package shredded Mozzarella cheese
1 egg
1 tablespoon water
2 tablespoons grated Parmesan cheese
Pizza sauce, for dipping
Directions
Preheat oven to 400°F and line a sheet pan with parchment paper.
Unroll the pizza crust and press it out to a 11×14" rectangle.
In a small bowl, combine the melted butter, garlic and Italian seasoning.  Brush over the pizza crust.
Arrange the pepperoni slices evenly over the crust (leaving a 1-inch border around the edge of the crust) and sprinkle with mozzarella.
In a small bowl, mix the egg and water to make an egg wash. Brush the egg wash around the border of the crust and roll up the Stromboli, pinching the edges as you go.
Place the Stromboli onto the parchment paper-lined baking sheet, seam-side down.
Brush with egg wash and sprinkle with Parmesan cheese.
Cut 4 slits into the top of the Stromboli and bake for 20-25 minutes or until golden brown.
Cut into slices and enjoy with warmed pizza sauce.
This recipe was provided courtesy of our partner Kansas Wheat. Get more delicious wheat recipes from their consumer website Eat Wheat!
---