Make Your Own Yeast Dough Critters: Turtles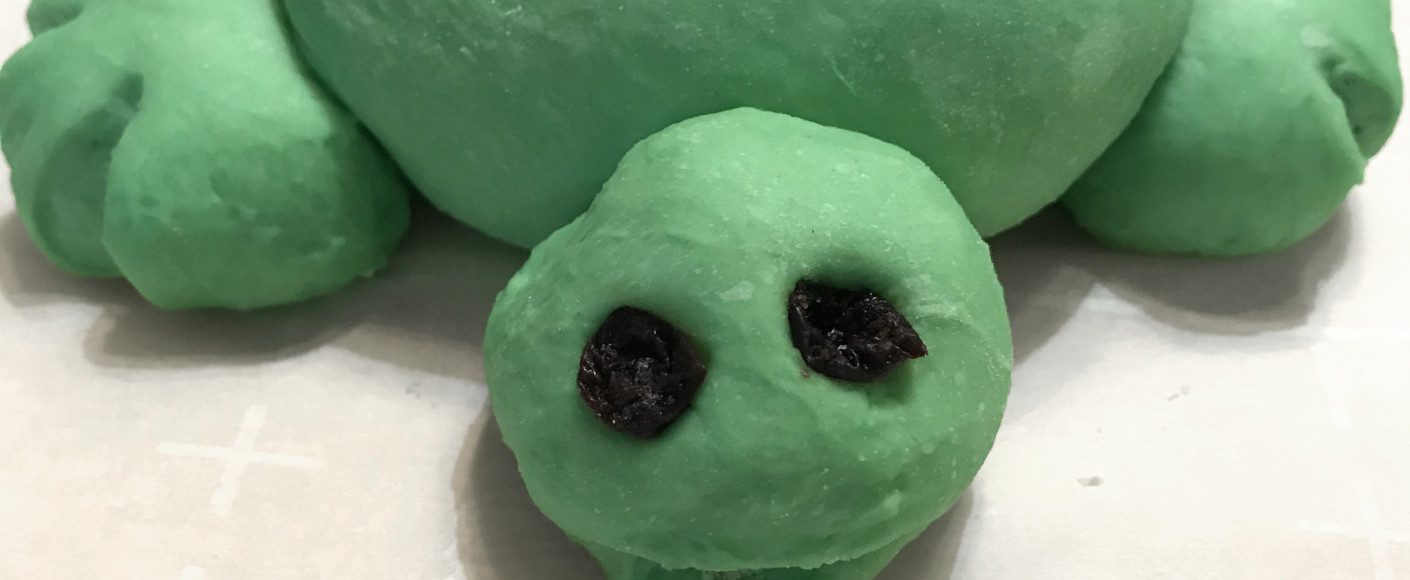 Did someone say snack time? How about craft time? You don't have to choose! This easy recipe is one the kids will love helping with. They're torta-licious! 
Ingredients
Soy Flour Blend
7 cups all-purpose flour
1 cup soy flour
Turtles
2½ to 3 cups soy flour blend
2 tablespoons sugar
1 (¼ ounce) package fast-rising dry yeast
1 teaspoon salt
1 cup warm water (120° to 130° F)
1 tablespoon vegetable oil
Green food coloring paste
Directions
Combine 1 ½ cups soy flour blend, sugar, yeast and salt in large mixing bowl.
Add water and vegetable oil; mix to blend well.
Stir in enough remaining flour to make soft dough.
Knead by hand on lightly floured surface until dough is smooth and elastic, about 3-5 minutes OR place in mixing bowl and use dough hook to knead.
Add green food coloring paste for desired color and continue mixing with dough hook until color is evenly blended.
Form a rounded smooth dough ball. Cover; let rest for 10 minutes.
Divide dough in half to make two turtles.
For each turtle: Form a large egg-sized piece of dough (half of the divided dough) into a smooth ball for the body and place on a lightly greased baking sheet or parchment paper and flatten slightly.
Add a small piece of rounded dough (other half of remaining divided dough) for head; divide remaining dough into five pieces; round four pieces of dough for the legs and a narrow piece of dough for the tail. Tuck the pieces slightly under the body.
With kitchen shears make an indention to form the eyes and insert raisins and snip for the mouth and the feet for claws.
With a serrated knife make shallow cuts lengthwise and crosswise across shell.
Cover; proof until double. Brush with egg wash if desired [to make egg wash: whisk 1 egg and 1 tablespoon]. Bake at 400° F for 15 to 18 minutes or until golden brown.
Makes two turtles. 
---