Baked Egg with Canadian Bacon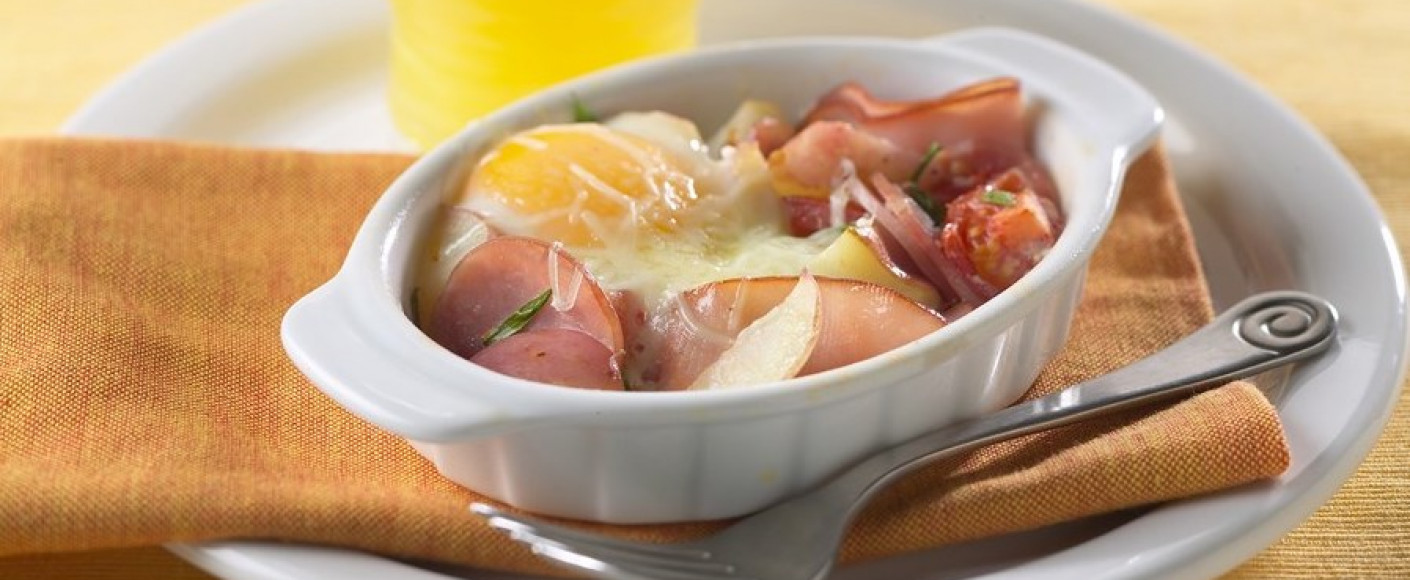 This simple breakfast dish is a great combination of comfort food (hello, eggs and bacon!) served with style. Even better, because it's baked, you can easily serve a group without having to worry about cooking in batches.
On a specialized diet? This recipe works well for folks following a gluten-free diet — and, of course, omnivores!
Ingredients
1 6-ounce package Canadian style bacon chopped
Butter-flavored nonstick cooking spray
1 cup refrigerated red potato wedges no-oil added, cubed
1 small plum tomato seeded and chopped
2 tablespoons fresh chives chopped
4 large eggs
1/8 teaspoon black pepper
4 teaspoons nonfat half and half
4 teaspoons Swiss cheese OR Gruyere or white Cheddar cheese, finely shredded (optional)
Directions
Preheat oven to 350 degrees F. Coat inside of four 6-ounce ramekins or custard cups/ramekins with cooking spray; set aside.
Combine Canadian bacon, potatoes, tomato and chives in a medium bowl. Spoon mixture evenly in ramekins.
Break egg into each ramekin on top of the Canadian bacon mixture. Sprinkle with pepper. Drizzle 1 teaspoon of half-and-half over each egg. Place ramekins on baking sheet.
Bake in heated oven for 15-20 minutes or until egg whites are opaque and yolks have firm edges but soft in centers. Remove from oven.
If desired, sprinkle each with 1 teaspoon cheese. Serve immediately.
Makes 4 servings.
* For a Southwest twist, toss the Canadian bacon mixture with 1/2 teaspoon chili powder before spooning it into the ramekins.
---