A Closer Look at Farmers Markets
On

February 22, 2017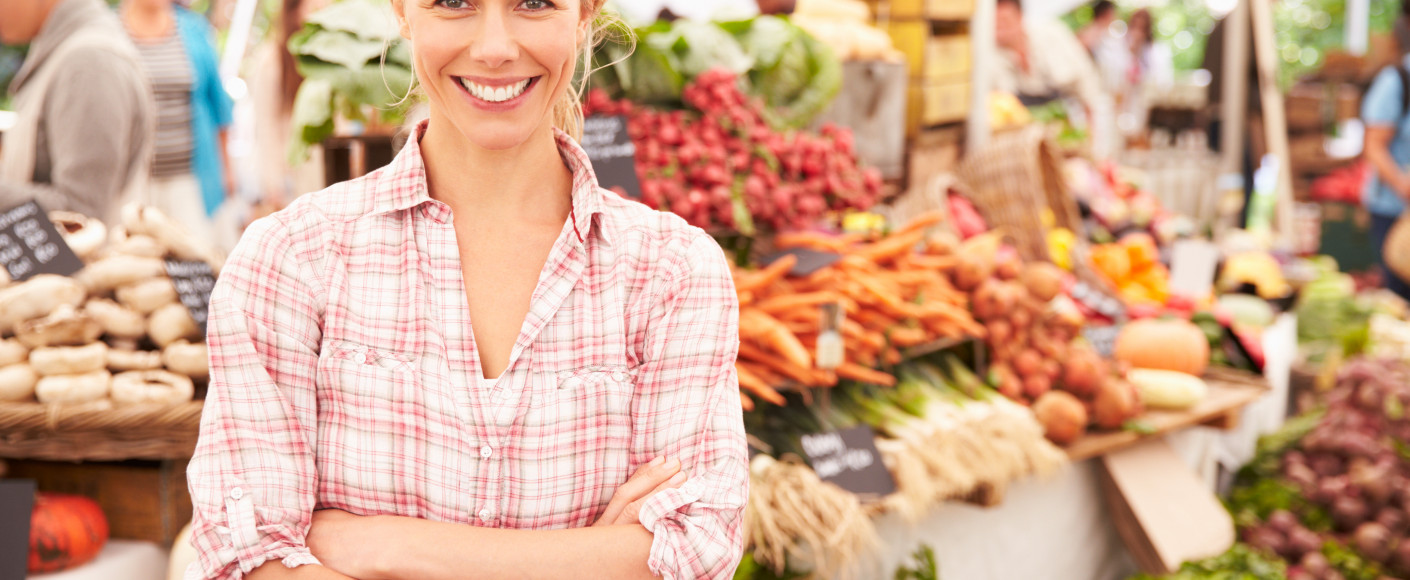 "A farmers market is more than just a grocery store," says Andrea DeJesus. "It's a place to really connect with farmers. One of the best things about the market is when families bring their kids down and they are excited and curious about what they see. They can talk to the farmers, get recipes and put a face with their food." 
Andrea would know. She has seen a lot of those connections between families, farmers and food in her role as president of the Downtown Farmers Market of Manhattan. She says helping people make those connections is the most rewarding thing about working on the market. 
And there is a lot of work that goes into it. Many farmers markets start up in the spring, but planning can start as early as a year out. 
Manhattan also offers a winter market, which means Andrea and the entire team are hard at work year-round managing the markets and handling administration behind the scenes. Advertising, planning special events, covering bills, writing grants, coordinating locations, reserving stalls for farmers and vendors—they do it all. So, even this time of year planning is in full swing. 
And they do it to help foster those connections. 
Winter Markets
The winter markets are smaller and less frequent than in the spring, but there is still plenty to discover—meats, handmade items, homemade foods and, yes, even produce! 
"People are amazed at how many vegetables we have," Andrea says of the cold crop harvests still available this time of year. 
Often people come across produce they've never eaten before and Andreas encourages them to learn more. Asking farmers what different foods taste like, how best to prepare them, what health benefits they have—that kind of interaction is unique to the market and can help families discover new favorite foods, even in winter. 
Spring Markets
Few things beat the peak season with all the fresh produce available, but Andrea points out there is much more to enjoy—from fresh-cut flowers to baked goods to cheeses and even starter plants if you want to try your hands at growing herbs and vegetables yourself. 
Vendors rotate throughout the season, so there's something new at the market every week. 
Plus markets often plan special events, like Manhattan's salsa competition where shoppers bought ingredients for salsa at the market and brought their entries in the following week. 
Benefits
There are even more reasons to love your local market. Did you know that food from the farmers market is:
Healthier: Produce is at its peak nutritional value when it's picked from the plant. Since food doesn't travel as far as it might to a grocery, food at the farmers market is better for you. 
Fresher: As soon as it's picked, produce starts to lose flavor, too. Often farmers pick their produce the day before the market, so there isn't a long lag time between picking and purchasing. This means fruits and vegetables are tastier and last longer than when purchased from a grocery store. 
Greener: There is less of an environmental impact when food doesn't have to travel as far from the farm to your table. In Manhattan, most of the farmers live within 10 miles of the market. 
Support Programs
A lot of people think shopping at the farmers market is more expensive than a grocery, but that's simply not true, Andrea says.  
And to make fresh, nutritious produce more accessible, many markets participate in: 
EBT (food stamps) 
Senior Farmers Market Nutrition Program 
Women, Infant and Children (WIC)
Some markets also work with schools to provide vouchers for students and their families to help with food costs. 
In Manhattan, Andrea applies for grants to help match program allowances, which lets participants stretch their benefits even further. 
For example, families using the food stamp program could get $25 worth of items allowed in the program, plus a matching $25 for fruits and vegetables from the market. 
Each program and each market is a bit different, so ask your local farmers market for more information on what they offer and how it works.
Find a Farmers Market Near You
If you live in the Flint Hills area, you can connect with the Downtown Farmers Market of Manhattan on Facebook. 
Check out From the Land of Kansas for a listing of markets throughout the state to find one near you. (You can also filter by support program.) 
---