Kansas Livestock Association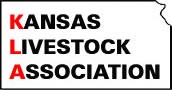 The Kansas Livestock Association Mission Statement is: "Advance members' common business interests and enhance their ability to meet consumer demand."

The Kansas Livestock Association (KLA), formed in 1894, is a trade association representing over 5,000 members on legislative and regulatory issues. KLA members are involved in many aspects of the livestock industry including seedstock, cow-calf and stocker production, cattle feeding, dairy production, grazing land management and diversified farming operations.
Connect with Us
---